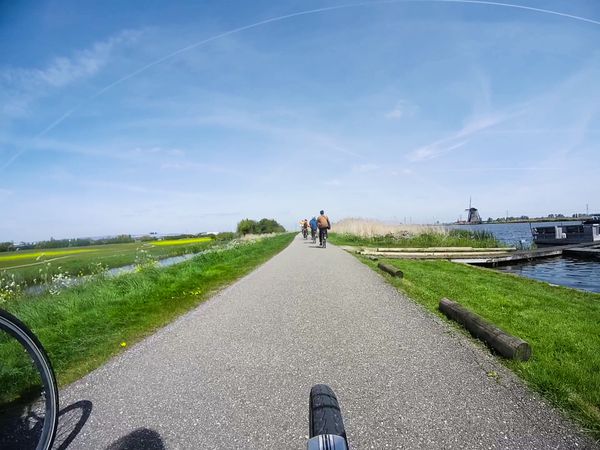 click to load Youtube embed
Cycling, Walking, Lying
Cycling
From the very end to the very start of the River Rotte, you can see a huge shift from an urban to a rural landscape, and Land van Chabot is at the turning point of this change in surroundings. When you ride to this place, you no longer see tall commercial buildings, only low residential houses and polder fields, and the highway that plunges from the viaduct into the dirt. If you look deeper into it, go inside, or explore the history of the land, you will be amazed by the number of changes that have happened in the land. Now, the uncertainty of the future is strongly affecting the landscape, which makes you wonder what it will be like in the future, as the highway takes root, and how its landscape will unfold.
Walking
When you step foot into Land van Chabot, a lingering essence of its original landscape can still be perceived along its untouched riverbank. This openness, adorned with patches of untamed wildflowers and grasses, bestows upon the surroundings an evocative texture reminiscent of an oil painting. As one traverses from the Rotte River towards the inside of the riverbank, the change in elevation unfolds gently. The Rotte River recedes into the embrace of flourishing vegetation, and the sunken terrain swiftly engenders an acute sense of traversing into an alternate realm, instilling a profound immersion within nature and a noticeable detachment from the trappings of human-made amenities.
Lying down
Lying down is a more immersive experience. You will find that the grasses that you usually look down at are now at the same height as you, and you have rarely seen them so close, even clearly hearing the sound they produce as they sway in the wind. With the change of perspective height, your view is no longer filled with green land, the sky becomes the main character, and at this moment, you can enjoy the solitude in nature freely and without being influenced by others. Although there is still the unsettling sound of highway construction in the distance, the chirping of ducks and birds, and the sound of plants rubbing against each other bring your mind back to nature quickly.